If you are planning a weekend in Liverpool with your friends, you'll need somewhere to stay. If you are looking for group accommodation Liverpool, you are in the right place.
There are some excellent options available, from the Signature Living Apartments which can accommodate up to 48 guests, to the party rooms at the luxurious Shankly Hotel. Whatever you are looking for, there's something in Liverpool for you.
We've put together some of the best places to stay with a group in Liverpool, whether you are planning a night out with your closest friends or a crazy hen weekend with a large group. Read on to find the perfect accommodation for your group.
Looking for something to do with the girls in Liverpool?
Check out the Coverstar recording studio experience here
The Best Party Accommodation In Liverpool For Groups
It can be hard to know where to start when you are looking for accommodation for a group. You want to make the most of your time together, rather than being stuck in separate hotel rooms for your entire trip.
Luckily, Liverpool has a lot to offer when it comes to group accommodation, so there's sure to be something that is ideal for your group, no matter how many people there are.
Let's take a look at some of the most popular options to choose from.
1. Signature Living Apartments
With a central Liverpool location, the Signature Living apartments are ideally located for groups that want to enjoy Liverpool's nightlife or take advantage of the shopping opportunities, without having to worry about navigating public transport or paying for taxis.
This unique accommodation offers apartments for groups of between six and fifty individuals, making it suitable for almost any group.
The apartments are modern and spacious, offering a comfortable stay for any group. As well as being tastefully decorated, each apartment is packed full of the latest mod cons and amenities, making your stay at the Signature Living apartments perfect.
There are a wide range of apartments to choose from, with options available to suit any group. Whether you are looking for a luxury apartment complete with jacuzzi, or you want to go all out and make a splash in a private pool, Signature Living has something to offer every group.
What's more, each room has its own theme. There's the Casino Penthouse, where up to 12 friends can spend a night feeling like they're in Las Vegas, and the Skyline Suite, where up to 10 guests can enjoy spectacular views across the Liverpool skyline. For larger groups of up to 24 guests, check out the Laurent Perrier room, complete with its own private pool.
Whatever you are looking for, you are sure to find it at the Signature Living apartments in Liverpool.
Check out the Signature Living party apartments here
2. EPIC Apartments
If you are planning an epic group party weekend, your accommodation needs to stand up to the challenge. The EPIC Apartments are… well… Epic!
With locations on both Campbell Street and Duke Street, you can choose between being right next to Liverpool's Albert Dock or in a more central location, just minutes away from Liverpool ONE. This gives you the flexibility to choose the location that's right for your group weekend away.
The Duke Street location houses eight separate apartments, each sleeping between two and six guests. For larger groups, you have the option to book several or even all of the apartments, sleeping up to a total of 35 friends.
The Campbell Street location is home to a further four apartments, each sleeping between six and ten guests. By booking all of the Campbell Street apartments, you could have enough space for 32 guests split between the four apartments.
Each of the EPIC apartments comes with its own kitchen facilities, dining space and en suite bathroom, along with all the space you need to spread out and enjoy your time away with your group. Some of the apartments even come with private terraces, so that you can soak up the Liverpool sun and enjoy a few drinks outdoors.
So, whether you are booking for a small, close group of friends or a large hen or stag party, EPIC Apartments offer versatile accommodation in the heart of Liverpool.
Take a look at the EPIC apartments here
3. Hard Days Night Hotel
If you are a Beatles fan, (and let's face it, who isn't?!) you'll love the Beatles inspired Hard Days Night Hotel. Whilst each room can only accommodate two guests, there are plenty of rooms available (110 in total) and group bookings are welcomed.
Each room at the Hard Days Night Hotel has been tastefully decorated with Beatles memorabilia and furnished with the luxuries you'd expect. There are even two suites available – the McCartney Suite and the Lennon Suite.
The McCartney Suite showcases exclusive original memorabilia, including Paul McCartney's certificate of Freedom of the City of Liverpool. It also has its own private balcony, from which you can enjoy stunning views over the city.
The Lennon Suite features exclusive pieces of artwork, honouring John Lennon. Not only that, but this suite comes complete with its own baby grand piano, so you can test out your musical skills. What more could you want for your stay in Liverpool?
Discover the Hard Days Night Hotel here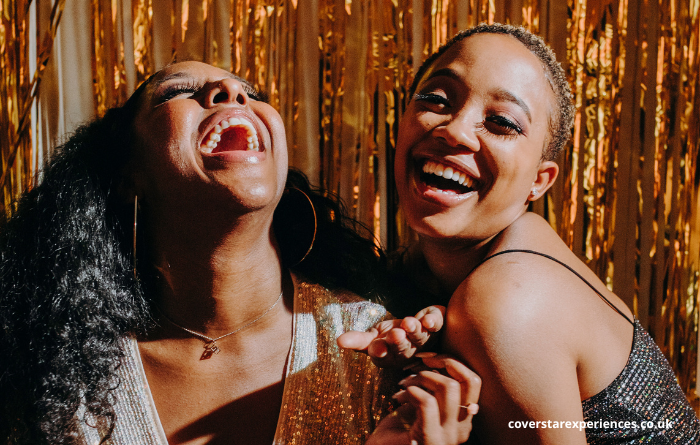 4. Staycity Aparthotels
Finding group accommodation on a budget isn't an easy task, but Staycity makes it simple with its range of one, two and three bedroom serviced apartments.
You can choose from the Waterfront location, just a stone's throw away from Liverpool's James Street station, or the Duke Street apartments in the trendy Ropewalks location. Whichever you choose, you'll be right in the heart of Liverpool, with a prime location to enjoy all of the nightlife that Liverpool has to offer.
There are 56 apartments to choose from, so you'll be spoilt for choice. Each apartment has its own kitchen facilities, along with an en suite bathroom, so you can enjoy a comfortable stay in Liverpool. They've also got super-fast WiFi and modern TVs, so you can have some well-earned downtime between partying!
Check out the Staycity Apartments here
5. Quest Apartments
Quest is one of Liverpool's newest additions when it comes to group accommodation in the city centre, offering modern comfort for groups of all sizes. Choose from a range of one and two bedroom apartments, each sleeping up to five adults.
Each apartment comes with its own modern kitchen facilities, including an oven, toaster, microwave, full size fridge, washer and dryer, so you'll feel right at home whether you are staying for one night or two weeks. Not only that, but every apartment is kitted out with air conditioning, so you are guaranteed a comfortable stay whatever the weather has in store.
You'll also benefit from a central location, right in the heart of Liverpool. Whether you are planning to visit the bars, restaurants, museums or shops that Liverpool has to offer, you are just a stone's throw away when you are staying at Quest apartments.
Take a look at the Quest Apartments here
6. The Carriage House
Sometimes an apartment just isn't enough. That's where the Carriage House comes in – a four bedroom house in the heart of Liverpool that can comfortably sleep up to 16 guests.
This stunning property is centrally located on a gorgeous cobblestone street, just seconds away from Liverpool's Philharmonic Hall and half a mile away from Liverpool ONE. If you are jetting into Liverpool John Lennon Airport, you'll be pleased to learn it's just 6 miles from the Carriage House.
If you enjoy cooking, you'll be perfectly at home in the Carriage House, as it comes with a fully stocked kitchen. And if you are feeling rough after a night on the town, you'll enjoy the Nespresso coffee machine, which will be ready and waiting to wake you up in a morning!
Whatever your plans when you are visiting Liverpool, the Carriage House makes the ideal base for groups to explore the city.
Check out the Carriage House here
7. Infinity Apartments
Nestled on a quiet tree-lined street, right in the centre of Liverpool city centre, Infinity apartments is the perfect base for hen parties, stag parties and breaks away with your friends.
Think New York loft meets high-end London style, and you'll begin to get an image of exactly what the Infinity apartments are like. With a high standard design and state of the art facilities, you are guaranteed a comfortable stay and everything you need at Infinity apartments Liverpool.
These spacious apartments are just minutes away from the famous Matthew Street, so you won't have to worry about navigating public transport or paying for taxis. You can simply enjoy your night out and time with friends, before stumbling back to your luxury accommodation.
The largest property is the duplex penthouse, which sleeps up to 18 guests. However, you can also choose to book a number of apartments within the same building for larger groups, giving complete flexibility for your group break in Liverpool.
View the Infinity Apartments here
8. Tom Thumb Studio Apartments
If you are looking for modern accommodation in a great location, you'll love the Tom Thumb studio apartments.
Situated above the popular Tom Thumb bar, these spacious apartments are ideally situated for nights out on the town, shopping and exploring the sights of Liverpool. With four single beds and a giant sofa bed in each apartment, each of the three studio apartments can each sleep up to eight guests. Book out all three apartments and that's accommodation sorted for up to 24 people. Impressive, right?
Each of the Tom Thumb apartments features a modern kitchen, which is kitted out with everything you need to prepare breakfast for your group. Not only that, but there's also a large TV to keep you entertained during your down time, and free WiFi so you can stay connected.
Within each apartment, you'll also find an en suite bathroom, with a state of the art shower, keeping you feeling refreshed after those crazy nights out.
Whether you are planning a fun-filled hen party weekend or a getaway with a group of close friends, the Tom Thumb apartments are well worth a look.
You can find the Tom Thumb apartments here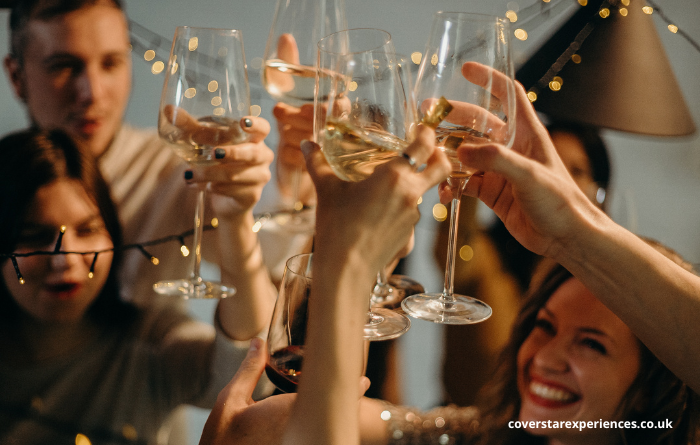 What To Do In Liverpool
It can be hard to know where to start when you are planning a group trip to Liverpool. Whether you are organising a weekend away with the extended family, a hen party or a girly holiday, you'll need to plan activities that the whole group can enjoy together. After all, memories last a lifetime.
We'd love you to join us at Coverstar for a recording studio experience with your group of friends or family. You'll get the full popstar experience, with the opportunity to record your favourite song as a group. Our pros will then edit your soundtrack together while you enjoy a night of dancing, karaoke and games, before taking your own CD home as a memento of your night.
Other ideas of things to do during your time in Liverpool include:
In Summary
Liverpool is the perfect destination for hen parties, family getaways and a weekend away with the girls. Whatever it is that you are travelling to Liverpool for, you are bound to have a fantastic time in the home city of the Beatles.
Organising a getaway with a group of friends can be tricky, especially if you all want to stay together. Luckily, there's a wide range of places to stay for groups in Liverpool, so you should be able to find something that suits your group, no matter how big or small your group may be.
We hope this article has given you an idea of the group accommodation Liverpool has to offer. We'd love to see you at Coverstar experiences during your visit!
Book your Coverstar recording studio experience here