Liverpool is one of those cities in the world that proves that romance doesn't have to be boring. Whether you are looking to laugh into your drinks, swan over a festival of gin or test your love at the magical mystery tour, couples in Liverpool are provided with an array of exciting and out of the box things to do.
Here is our list of the top fun things to do in Liverpool for couples. 
1. Become superstars
 Coverstar Experiences delivers one of the best places to go for a fun, exciting and memorable date with a difference. Our studios are centrally located within our beautiful city centre to offer locals a chance to live a celebrity lifestyle even just for a day. Other than recording a hit together, we strive to provide you and your loved one an opportunity to dine at our inbuilt private bar. We also offer a range of packages to suit any occasion, whether its a birthday, engagement, or even Valentines.
2. Go on a magical mystery tour
There is nothing more exciting for a couple than being trapped inside a live escape room to put your relationship to the test. Could you team up and break out? Couples can enjoy a crystal maze experience in Merseyside's live escape rooms. The trick here is to find the hints and solve the mysteries to escape.  
3. Antony Gormley's Another Place
Located on Crosby Beach, Antony Gormley's Another Place provides one of the unique art installations in the country to have a romantic outdoor date as a couple. It is home to a set of 100 cast-iron sculptures that are set across 3 km of the foreshore, stretching out into the sea.  
4. Ex-Directory
This is without a doubt one of the hardest quirky and tasty bars to find in the city. First, you need to discover the telephone box to enter this top secret location. Ex-directory, not only provides a romantic date location but is also quite exciting to see. Once inside, you will be served with a cocktail menu filled with some of the most creative concoctions.  
5. Circo
If you are looking for some weird but wonderful things to do as a couple in Liverpool, Circo is your place. This circus bar offers delicious dining options and spectacular visual-led performances, death-defying stunts from jugglers, acrobats and more for the both of you to enjoy.  
6. View the city from above
If you are looking to impress with panoramic views of Liverpool's skyline, Goodness Gracious is a rooftop bar that is impressive inside and out. There is nothing more romantic than sipping on a glass of wine while soaking up the sights on a date. Both of you can enjoy an incredible array of cocktails and still catch some breathtaking Insta pics.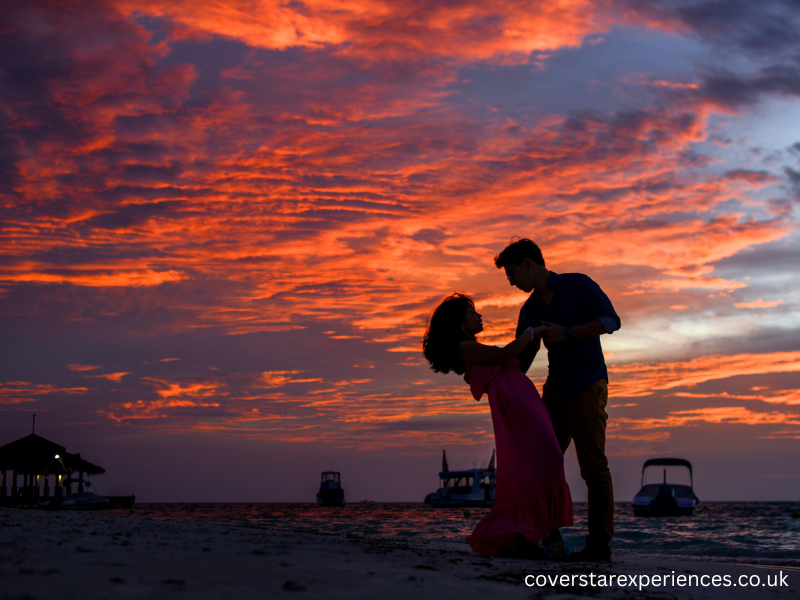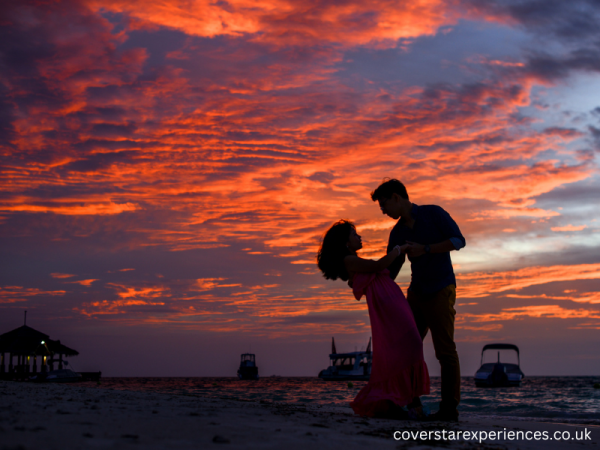 7. Catch a ferry across the Mersey
Combine your date with unrivalled views of the Mersey River and the city's skyline while you sip on a selection of refreshments and hot drinks. This cruise provides a fantastic way to take your sightseeing from dry land to sea. The cruise runs all year-round boasting of stunning Liverpool waterfront views. It provides an excellent opportunity to get around Liverpool with the cruise running between three important locations- Seacombe, the Wirral and the iconic Pier Head. You can even break and restart your journey at any of these three terminals to visit its riverside attractions.  
8. Walk in the park
While this might not be the first idea that pops up in your mind, sometimes, simple is better. Liverpool is home to some of the most stunning parks in Britain. Sefton Park, for instance, provides a quick and romantic spot for taking in a stunning backdrop as you meander hand in hand along winding paths. You can wander around the glistening lake as you go towards the Palm House, which is particularly prominent at night when the intricately framed glass dome beams up from inside.  
9. Sefton Park festivals
Sefton park almost always has a celebration that you can go to as a couple. You can enjoy some free music festival, gut-busting comedy festival or a delicious foodie event with local restaurants coming together to serve some of their most popular dishes. While you will have to share, the experience with another thousand of festival-goers, it will be one that you will leave to remember for years.  
10. Share some LOLs
They say the way to your date's heart is through some quality laughs. This couldn't be any truer. Have a laugh with your loved one at one of the city's stand-up comedy venues, including the Comedy Central on the Albert Dock, Hot Water Comedy Club on Seel Street, or Laughter House Comedy on Fenwick Street. Whether it is a first date or an anniversary, there is nothing better than a comedy show date to keep your partner happy and laughing. The Albert Dock, one of the city's longest standing comedy events provides a truly romantic backdrop for a date.  
11. Bongo's Bingo
Bongo Bingo is not your conventional date night idea, nor is it your regular bingo either. While it's still unclear whether it is a show, rave or an event, the Bongo Bingo provides an exciting night out. Expect some impromptu dance-offs, and raves. You might even be lucky enough to win a special prize.  
12. Couple spa visit
There is nothing more romantic than a trip to a couple's spa. Step into Morgan's Spa on 30 James street where you will be met with the sweet-smelling aroma of essential oils and tranquil atmosphere for you to relax. This couple's spa has a serene, calming atmosphere that is coupled with a team of extremely talented and professional spa therapists.  
13. Catch a show
The Echo Arena was launched ten years ago to honour Liverpool's European Capital of Culture celebrations. Here, you and your loved one will be spoilt for choice of things to do. Whether you want to enjoy the concerts, cultural shows, sporting events, or enjoy the incredible views of the city 's waterfront, you will find something for you to do here. While Liverpool might not be the most romantic city in the world, we have a lot to boast about when it comes to things to do for couples. Spice up your relationship with these awesome date ideas that will leave your significant other feeling special.
Final Thoughts 
So there you have it – the top fun things to do in Liverpool for couples! 
We hope you'll consider joining us at Coverstar Experiences during your visit to Liverpool to become popstars together in the ultimate fun evening for couples!