Liverpool is one of the most vibrant and exciting cities in the UK, and it is also a fantastic destination for your hen party. This bustling port city is known for its lively nightlife, trendy bars and world-class museums and galleries, offering countless opportunities for fun and adventure.
Liverpool is an ideal location for a memorable hen party celebration, and with so much to see and do in this vibrant city, you can tailor your hen party to suit your preferences – be it shopping sprees, wine-tasting tours, or club-hopping nights out. If you're looking for a unique way to celebrate the hen party of your dreams, there is no better city in the world!
In this article, we will take a look at Liverpool's top hen party events and activities, as well as give you a list of hen party fancy dress ideas to make your trip that much more fun and exciting.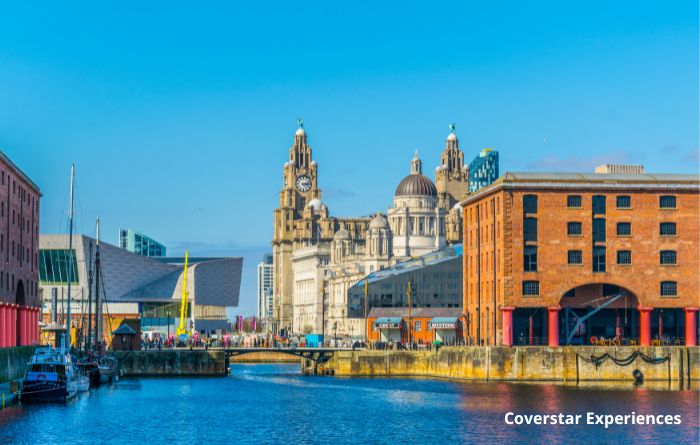 Top 10 Fancy Dress Ideas
Decades
Decades-themed fancy dress has always been a popular way to celebrate a special occasion, and for good reason. Each decade brings with it its own unique fashion trends and style choices, from the flared pants of the 70s, the neon legwarmers of the 80s and crop tops and hipster jeans of the 90s.
As such, those who choose to go with a decades theme have many options when it comes to picking out their outfits. Whether you want to channel disco-era glam or a more grungy look, there is something for everyone when it comes to dressing up in decades-themed fancy dress.
In addition, this type of theme can be especially fun if you're hosting a hen party and want your guests to really embrace the spirit of the occasion. So if you're looking for a fun and engaging theme for your special celebration, look no further than a decades-themed fancy dress party!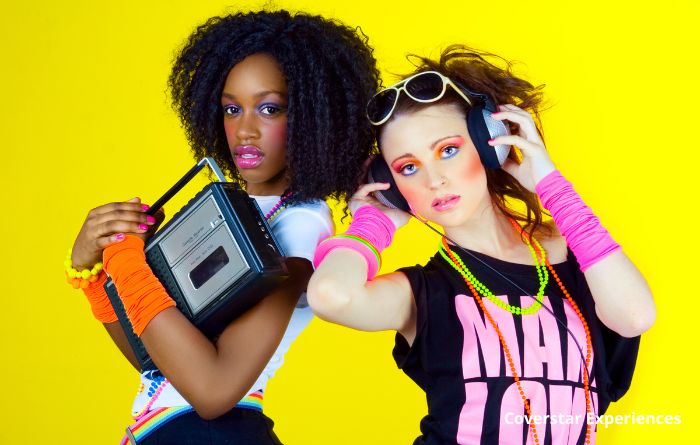 Beyoncé
If you're planning a fancy dress party with a Beyoncé theme, there are several ways that guests can go about dressing up to reflect the superstar's iconic style. Perhaps the most obvious way is to choose from one of Beyoncé's many costumes worn onstage or in music videos. For example, you could dress up as Queen Bey from her "Lemonade" music video, complete with her flowing hairstyle, floor-sweeping yellow dress and baseball bat.
Alternatively, you could opt for a more glamorous look based on one of Beyonce's red carpet looks. A popular choice might include her metallic sequined dress at the 2017 Met Gala.
For a more casual look, you could mimic Bey's 2013 Super Bowl attire with a black bodysuit and leather jacket. As a style icon, your guests will have plenty of potential outfits to choose from. Whatever your approach, make sure to pay close attention to detail while trying to capture the essence of Beyoncé!
Golfers
Another unique and fun option is a golf-themed hen party. This theme provides endless opportunities for creative and interesting costume ideas, from full-on golfing outfits to clever variations on the classic "caddy girl". This theme is particularly appropriate for those looking to start a fun competitive spirit among party guests and compliments a night of drinking games.
Whether you choose to go all out in plaid shorts and ties or prefer something more subtle with headbands and armbands, you are sure to have an amazing time touring Liverpool with your fellow golfers!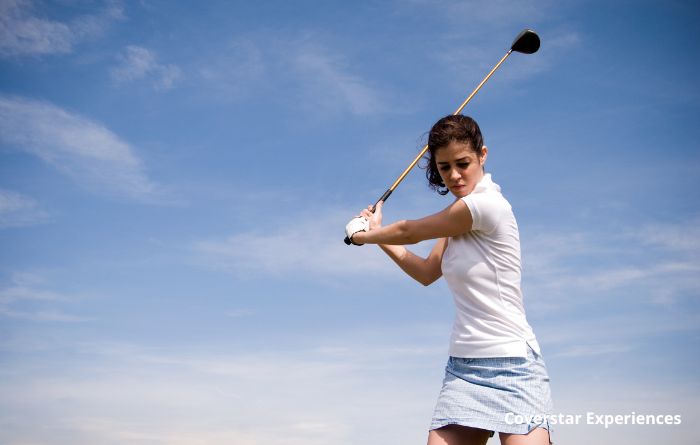 Pick a Letter
This is a fun and easy way to give your guests some free reign when it comes to their fancy dress attire! Ask your pals to dress up as something beginning with your chosen letter. For example, if the bride-to-be is called 'Laura' then you can all come as something beginning with the letter 'L'.
The possibilities are endless: a lion, leprechaun, Lara Croft, Princess Leia, Lady Gaga or full lederhosen!
Any letter you decide upon gives you and your friends a variety of options to choose from and will leave you laughing at all their ideas.
Police and Convicts
You can't go wrong with a police and convicts fancy dress theme. If the hen would like to stand out from the crowd, she can dress as a sexy police woman with a black uniform, police hat and truncheon.
The bride squad can then don the classic convict stripes or an orange jumpsuit, and of course, some handcuffs to keep them all in check! Get ready to turn some heads and take Liverpool by storm in this funny fancy dress theme.
Cheer Squad
Call your cheer squad and plan a cheerleader fancy dress theme for your hen party. With this theme, there are countless options available for you to wear. Some popular choices include traditional cheer outfits, such as short pleated skirts, cropped tops, and of course, pom-poms.
Alternatively, you could dress up as your favourite cheerleading character from TV or film, such as Sue Sylvester from "Glee" or Torrance Shipman from the movie "Bring it On."
Ultimately, your choice will depend on your personal style and the specific look that you are hoping to achieve. So whatever direction you decide to go in, embrace your inner cheerleader and make sure to have fun with your costume!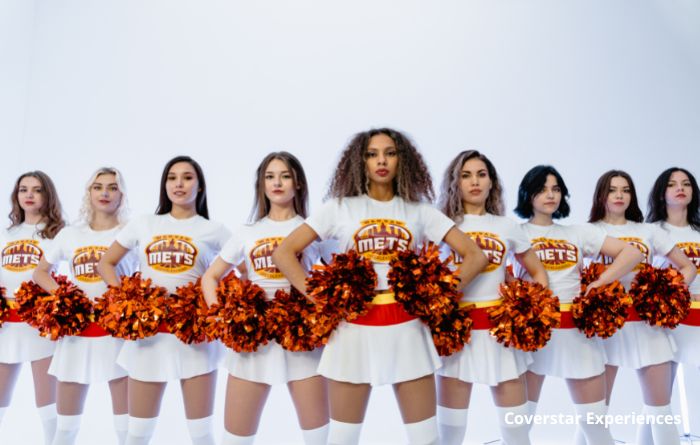 Superheroes
If you are considering a superhero fancy dress theme for your hen do, there are many different options to choose from. Perhaps the simplest and most recognizable choice is Wonder Woman, with her signature red and gold costume and iconic golden lasso.
Another option is to go as Catwoman, with a sleek black catsuit paired with fake feline ears and whiskers. Alternatively, you could take inspiration from characters like Supergirl or Black Widow, both of which combine elements of agility and strength that would be perfect for any superhero-themed party.
Whatever your preferred choice, a superhero fancy dress theme is a great way to show your love for comics while looking stylish at the same time!
Inflatables
Inflatable fancy dress costumes are a popular choice for those looking to stand out. They provide a fun and unique alternative to traditional costumes and allow you to truly embrace your funny side.
There are many different options available when it comes to inflatable costumes, ranging from silly animals to larger-than-life cartoon characters. We have all seen the inflatable T-Rex and sumo wrestling outfits.
Perhaps the main reason that they have become so popular is their ability to both entertain and cause laughter in others. Whether you're wearing one yourself or simply catching a glimpse of one out of the corner of your eye, inflatable costumes are sure to elicit a smile. So if you're looking for a way to inject some extra fun and hilarity into your hen party, an inflatable costume may be just what you need!
Glitter and Sparkles
If you'd rather keep it simple but stylish, a glitter and sparkles theme is perfect for you. Add a touch of glamour and shine to your hen party with a sequin dress, metallic fabrics, glitter face paint and bright wigs.
Pretty much everybody has some sequins in their closet, so this is an easy and budget-friendly theme that will leave you and your guests feeling beautiful!
Seasonal Outfits
If your hen party coincides with a holiday, take advantage! As the seasons change, there are many opportunities to express your creativity and have fun with festive clothing. Whether you're planning a hen do around Easter, Halloween, Christmas, or New Year's celebrations, there are many fun fancy dress options to choose from.
For example, one popular idea for Easter is to dress up as an Easter bunny or you can get creative with your outfit by adding floral patterns or other seasonal details that match the theme of the holiday.
Similarly, if you want to go for a spooky option for Halloween, you might consider dressing as a witch, zombie or skeleton.
There are also tons of quirky and fun ideas for celebrating Christmas and New Year's, such as dressing up as a sexy Santa Claus and a gang of elves or going all out with a black-tie masquerade party outfit.
Of course, no matter which holiday you choose to celebrate in fancy dress fashion, an eye-catching ensemble is always well worth the effort!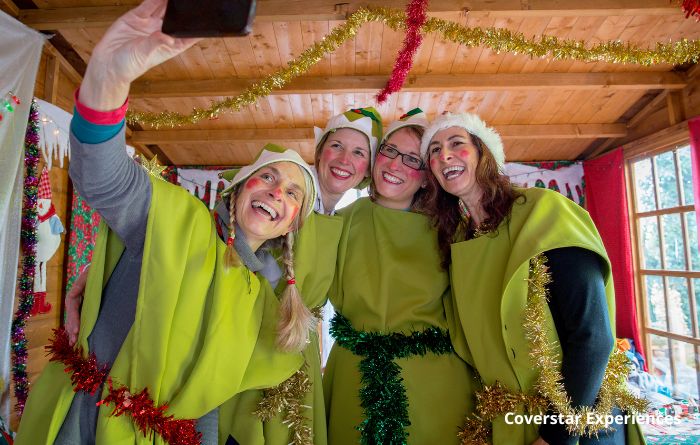 Why Choose Liverpool for Your Hen Party?
Liverpool is a fantastic place to have a hen party. With its rich history and exciting nightlife, this vibrant city has something for everyone. You can soak up the lively atmosphere by exploring the many charming local pubs and restaurants, or you can check out one of the many famous landmarks, such as the iconic Liver Building or the beautiful Albert Dock.
Of course, you can also take advantage of Liverpool's renowned live music scene by catching a concert or checking out one of the city's bustling nightclubs. Whether you're looking to dance the night away or simply enjoy a day of sightseeing, Liverpool is sure to impress. So why not visit this amazing city with a group of your best friends and make memories that will last a lifetime?
Liverpool has so much to offer, catering to every taste and budget. Some of the top things to see and do include:
Visit the Royal Albert Dock
Take a bus or river cruise tour
Check out Anfield football stadium
Wander the art galleries and museums
Take pictures of the beautiful architecture
On top of Liverpool's fantastic sights and attractions, the city is also home to many great restaurants, bars and clubs, perfect for a night out on the town. If you're looking for a place to let your hair down and have some fun, Liverpool is the city for you!
What to Do On Your Hen Night in Liverpool
Coverstar Recording Experience
Coverstar Recording Studio is part of Prohibition Recording Studios based in Liverpool's bustling city centre. With our hen party package, you will find everything you need to make your special day one to remember. You'll have access to three rooms complete with projectors, high-tech sound systems, recording equipment, luxuriously cushioned benches and your very own private bar.
Once you and your guests have settled in with a cocktail, you will be able to start recording your favourite hits, film your very own music video or take part in a magazine photo shoot. Coverstar also offers an array of props, wigs and extras that will be sure to get the party started.
Your experienced and friendly host will make sure there are no dull moments whilst you enjoy your time with us – karaoke, party games, and fancy dress are all on the agenda when you visit our venue.
Can't sing? Don't worry – we don't expect you to be the next Mariah! Our professional sound engineers will be on hand to provide their services and ensure your voice sounds tip-top! At the end of the session, you'll be presented with your very own personalised gold vinyl CD to treasure as a keepsake.
The Coverstar recording experience is truly a unique and entertaining way to spend your hen party, designed with the sole intention of putting a smile on your face. Not only will you leave with your sides hurting from laughter, but you'll also have a CD and video recording to share with your friends and family at the wedding!
Of course, don't forget you can come in fancy dress and make your celebrations that much more fun.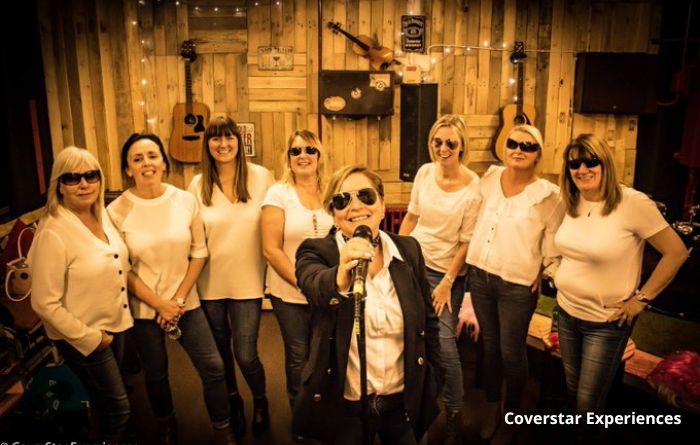 What Are You Waiting For?
So, what are you waiting for? If you're looking for a hen party that is packed full of fun, laughter and memories that will last a lifetime, get yourselves dressed up and hit the town!
A Liverpool Hen Party will guarantee you a fantastic time, surrounded by your best friends, family and fellow hens as you sing and dance your heart out, celebrate in style and prepare for the big day ahead.
We hope that this guide has helped you with some hen party fancy dress ideas. Whether you want a sexy, glamorous or funny theme, don't forget to take lots of pictures so that you can look back and remember your special day.