Finding the perfect way to say thank you to all of the special people that you've invited to your big day can be difficult. It's even more difficult to be inventive with it, making memories to last a lifetime. To take some of that pressure off we've compiled a list of 10 Creative Wedding Favours for you to use your own way, or just take inspiration from. These will be sure to blow your guests away, happy reading!
1) Charity Pins
---
As far as wedding favours go, charity pins are relatively inexpensive for you while racking up a really decent amount of money for those in need. We really love this idea, as it gives you a chance to let your love speak volumes by raising some awareness for those in need. Pick a charity that's close to the two of you, or have guests post you preferences of where they'd like to donate to.
2) Lottery Tickets
---
For richer or for poorer… but richer would be nicer, right? Again, an inexpensive way to bring some fun into your wedding, and who doesn't want the chance to win some money in the name of love? Just don't forget to remind any lucky winners how they came about the ticket in the first place!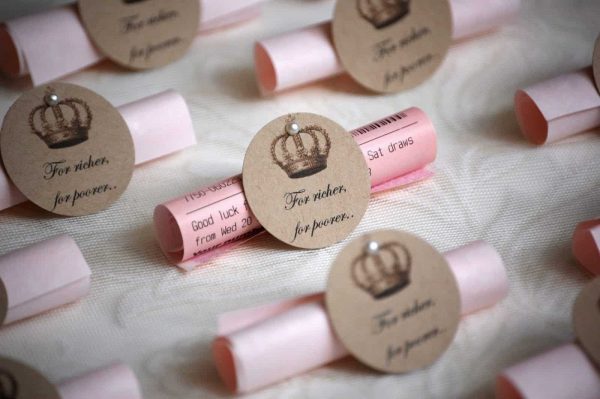 3) Packets of Seeds
---
Let your love grow with this different take on a wedding favour. It may be an idea to pick something that isn't too complicated- not all of your wedding guests will have green fingers. Check out which plants are in season at the time of your wedding so your guests can plant as soon as possible. This is a lasting gift, and a blooming flower is a good anniversary reminder!
4) Soap
---
If you're particularly crafty, why not try making your own soap for your guests? This is sure to give each bar a unique twist, and is a relatively cheaper method. Go rustic with your packaging, tying string around a cute, material wrap. If you're not too crafty, just personalise the wrapping of shop-bought soap with your names and the date of your wedding. The distinctive scent will remind your guests of your special day for months to come.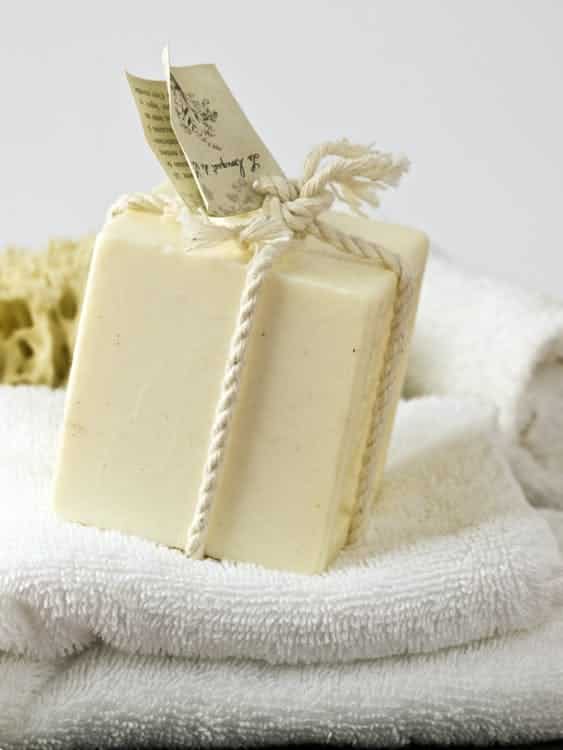 5) Wedding Playlist CD
---
Definitely a good keepsake from your wedding, add all the songs featured on your big day (first dance, walking down the aisle, etc.), and burn them onto a disc. Pop into a decorated envelope, making sure you've included the details of your names, date of your wedding, and a small thank you to your attending guests on the front, and a track list on the back. To make this even better, ask your guests to send in a song request along with their RSVP letters before the wedding, add these if they're featured in your day- making sure you credit those who picked the song. The perfect wedding favour if you're musically inclined.
Please note: it's copyright infringement to distribute music even if it's purchased. You must have a license to distribute.
6) Mini Bottles of Wine
---
This favour is more ideal for those with a larger wedding budget, or maybe fewer guests. There's also no reason to stop at wine, explore mini bottles of spirits or even soft drinks for non-drinkers/child guests. Add a personalised touch with some labels including the finer details of your wedding day, and give your guests the first drink on you!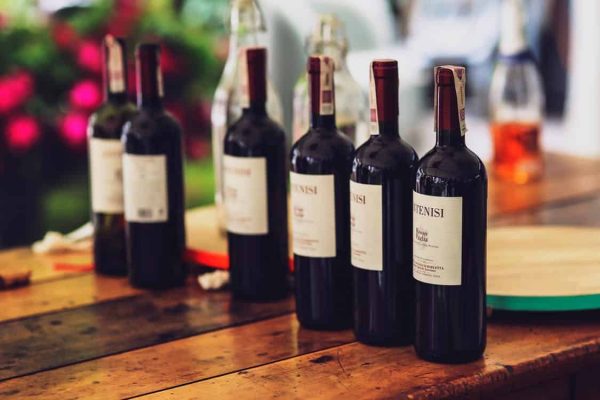 7) Handkerchief
---
Tears and weddings go together like fish and chips. There's no hiding it, so why not give your guests something stylish to wipe away those happy tears. Find a box to display your handkerchiefs in and place it by the entrance to your wedding reception, this way your guests can get prepared and grab one on their way in. For a nice touch, add your embroidered initials in the corner of the handkerchief.
8) Personalised Candies
---
This is one that has been done a lot, typically in the form of five almonds (representing the five wishes for the bride and groom). So to make it more personalised to you, get creative with how you make it your own. You could package the sweets with the colour scheme of your wedding, have your names printed, etc. Some companies will even print a picture directly onto the candy you're using as your favours, seen commonly with marshmallows or M&Ms. Or maybe there's a story to be told between you and your S.O around your favourite treat. The point of this one is to be fun and sweet, so pull out all the stops!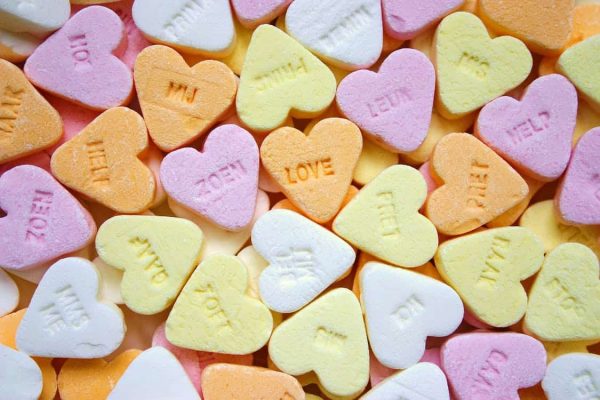 9) Glow Sticks
---
This favour isn't one that's going to last forever, but it is one that can make some great photos to keep. Have a jar of glow sticks near to the dancefloor and get retro with your guests. Dim the lights and let the glow frame your pictures, they'll be creative and full of fun, and definitely photos that you will remember fondly when you look back on. Alternatively, if you're having an outdoor wedding, replace glow sticks with sparklers, adding a truly magical glitter to your night.
10) Luggage Tags
---
Do you and your significant other like to travel? Why not share this passion with your guests, we're sure they'll use these luggage tags when they visit you on your adventures. The best part? With so many different styles and designs to choose from, you can pick a unique tag for all of your most special guests.