Some of you will be lucky enough to know exactly which song to choose for your CoverStar Experience – You Go Girl!
Most of you will be choosing on the Bride-To-Be's behalf (Good Luck) and will already know her favourite song. Unfortunately nine times out of ten, it can be a very tricky decision. A lot of the time the experience is a surprise for the Bride-To-Be meaning you can't simply ask her which song she wants to sing – tread carefully ladies, luckily we've got some advice!
Here are some top tips for helping you choose the perfect song…..
1) Pick an up-beat song that is catchy with lots of energy. Choosing something downbeat can make the party a sombre affair when it is supposed to be happy, energetic, and full of life experience!
2) Give it some rehearsal time. Some songs are sung very quickly. For example, Little Mix's 'Salute' and Beyonce's 'Crazy In love' This can be difficult if you are not all familiar with the song or not near Eminem rated rappers. Just fire a quick text to all the hens, let them know what the song choice is, and everyone other than the Bride-To-Be can blast out the high notes in the car for the weeks ahead – trust us any practice is good practice!
3) Caution when adding your own lyrics. Unless you have rehearsed before, we advise against re-writing the lyrics to your chosen song. Sometimes (although you may feel it does), the new lyrics don't fit perfectly with the backing track. If you haven't rehearsed beforehand, this can eat into your recording time if you're spending a large chunk of the party rehearsing.
4) Surprise. If it's a surprise for the Bride-To-Be and you really don't have a clue which song to choose – get your detective hats on! Ask her closest friends and family or the groom, we hope he would know valuable information like this by now! There may be a song she loved in her teens that will be nostalgic and fun to sing!
5) Find a classic. Pick a song that everyone will know. If they don't, send them a YouTube video of the song with lyrics as well. Insist they learn it beforehand! We ask for song choices 7 days before the party so this will give you plenty of time to decide.
Here is a list of our most popular songs requested…..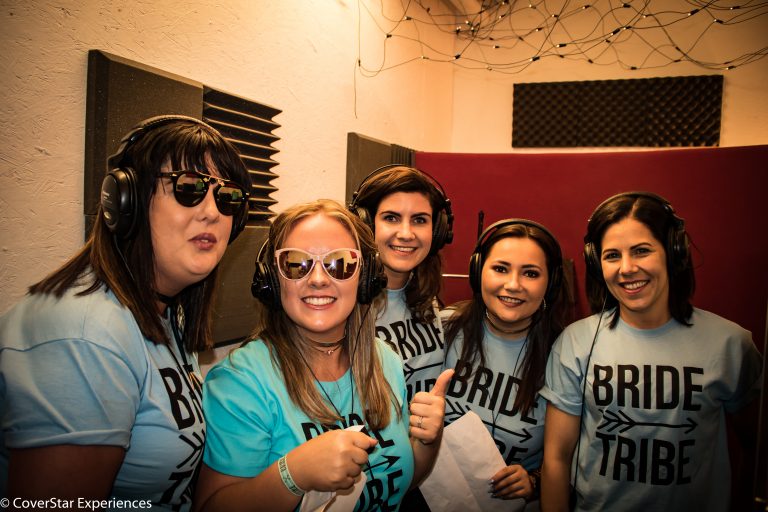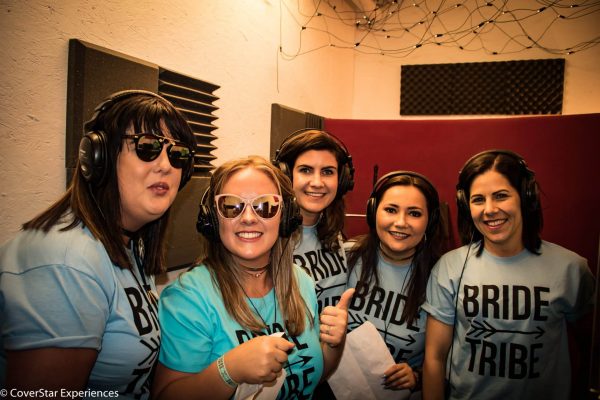 1) Wannabe – Spice Girls
2) Proud Mary – Tina Turner
3) 9-5 – Dolly Parton
4) Everybody – Backstreet Boys
5) Walking on sunshine – Katrina and the waves
6) Uptown Funk – Bruno Mars
7) How will I know – Whitney Houston
8) Don't stop believing' – Journey
9) It's Raining Men – The Weather Girls
10) We Are Family – Sister Sledge