A hen do is a celebration held for a bride-to-be shortly before her wedding, typically organised by the maid of honour or bridesmaids. It is the UK equivalent of a bachelorette party in the US and the term "hen do" comes from the word "hen", which is British slang for a woman. So the next time someone asks you what is a hen do – you will know exactly what to say!
Planning a Hen Do In Liverpool? The team here at Coverstar Experiences offer unique events that combine fun and music to create lasting memories for hen party groups!
Book Your Hen Party Experience!
Whether you're scouting for unique hen venues, are on a budget, or need group activities for a bridal party in Liverpool, read on for everything you need to know about hen dos from activity ideas, budget considerations, outfit planning, transport options and theme inspiration!
Who Goes On A Hen Do?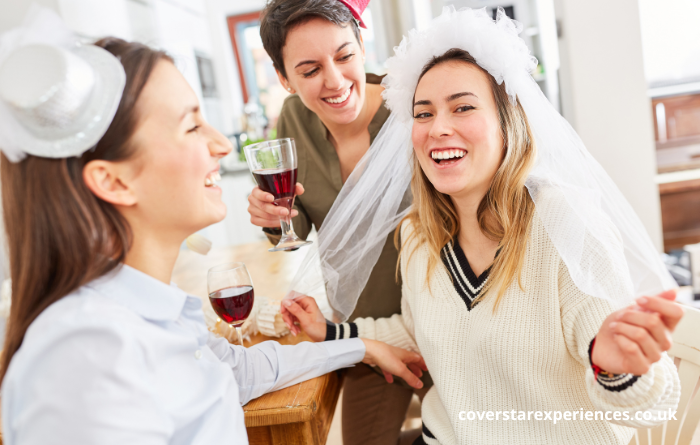 The guest list for a hen party traditionally includes the bride's closest female friends and family members but in modern times, it's not uncommon to see men and boys joining the celebration too if they hold a special place in the bride's heart.
Here are some of the key attendees:
Bride – The guest of honour at her hen party!
Maid of honour/bridesmaids – The maid of honour typically takes the lead in organising the hen do. Bridesmaids often help with planning.
Mother of the bride – Mothers are commonly invited, especially if they are close to the bride.
Sisters – Both the bride's sisters and those who are like sisters to her are crucial attendees.
Close friends – This includes childhood friends, university pals, coworkers, and any other significant female associates of the bride. Nowadays, this also extends to close male friends who have been significant in the bride's life.
Aunts, cousins, grandmothers – Extended female family members are also often invited.
Future sisters-in-law – Inviting the bride's future sisters-in-law helps them bond.
Male friends/brothers: Reflecting the changing times, it's becoming increasingly common to see men and boys at hen dos, especially if they hold a special place in the bride's life. Whether they're her childhood friends, colleagues, or confidants, their presence recognises the diverse and multifaceted nature of modern friendships and familial relationships.
The modern hen acknowledges that the bride's circle of love and friendship can include anyone, regardless of gender. The size of the guest list can range from an intimate gathering of 5-10 to a large blowout of 20 or more revellers, and the maid of honour works with the bride to determine the guest list.
When Do Hen Parties Start?
Hen parties typically take place anywhere from a month to just a few days before the wedding. While traditionally these celebrations were held at night, nowadays hen parties have expanded to include daytime activities as well.
The timing often depends on the planned activities, which can range from brunch, spa days, and outdoor adventures, to evening soirees and night-outs. The key is to schedule the hen party at a time that's convenient for the bride and her guests, and that doesn't interfere with pre-wedding preparations.
What Happens at a Hen Party?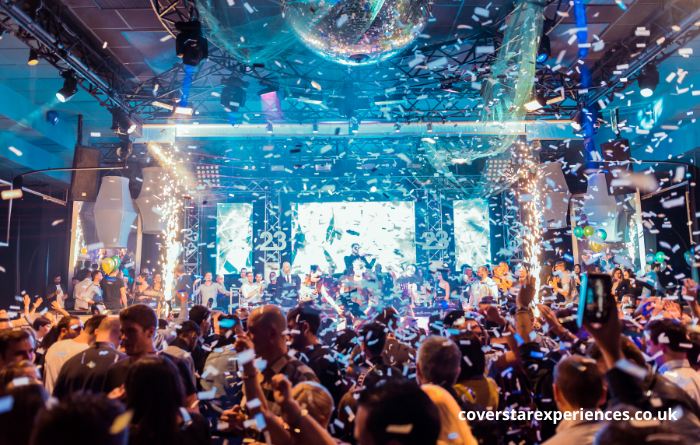 There are endless options for hen party activities and entertainment depending on the bride's style, tastes, preferences and of course the budget of those attending. From a single night out, a fun activity, or a full weekend of activities or a trip away, the options are limitless.
Here are some of the most popular hen-do ideas:
Drinks Out
Going out for cocktails or wine at a bar or restaurant is a simple and classic way to celebrate. Many hen dos start with drinks out before moving on to other activities.
Clubbing/Dancing
Hitting up nightclubs and dancing the night away is a common hen party activity, especially for younger brides. The group may bar-hop or go to a club with a guest list.
Spa Treatments
A day at the spa is a relaxing way to pamper the bride before her big day. Popular spa activities for women include massages, facials, mani/pedis and hot tub soaks.
Adventure Activities
For a thrill-seeking bride, adventures like zip-lining, surfing or rock climbing make for an exhilarating hen do. These active trips bond the group.
Cabin Getaway
For a low-key hen, renting a cabin and spending quality time together can be very memorable. Activities may include games, movies, hiking and more.
Scavenger Hunt
Scavenger hunts send the bride and her hens to complete silly tasks around town. This competitive activity generates plenty of laughs.
Themed Party
Throwing a themed costume party is a playful idea for a hen do. Themes like retro, superheroes or tropical luau set the tone for fun.
Talent Show
At a hen talent show, each guest performs an act like singing, dancing, comedy or magic. It gets everyone involved in the laughs.
Photography Shoot
A professional photography shoot captures the bride with her best girls. They can dress up in bridal looks or style themselves however they wish.
The entertainment portion is up to the preferences of the bride. The maid of honour may plan surprises or give the bride input on how she wants to celebrate her final days as a single lady.
Coverstar Experiences – The Perfect Hen Party Activity in Liverpool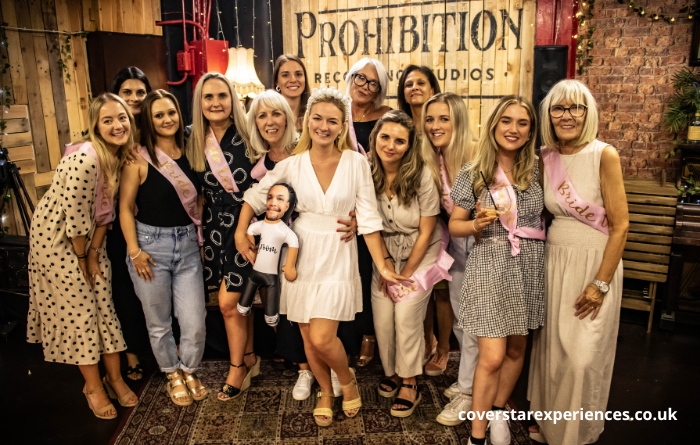 Are you organising a hen party in Liverpool for a bride-to-be who loves singing and karaoke? Look no further than Coverstar Experiences for the ultimate hen party activity she will never forget!
Take a look at what other happy hen's have to say about us on Trip Advisor.
Coverstar offers one-of-a-kind experiences like recording her favourite song, starring in a music video, or being on the cover of her own celebrity magazine. We will treat your hen like the star she is!
A bride who lives for karaoke will love to lay down professional vocals on her top pop song or show off her pipes in a custom music video. What's more, she can take home the recordings and videos to cherish forever.
At Coverstar Experiences, we make sure you have an amazing time and create lasting memories. We will host an unforgettable hen party tailored to your group's preferences and budget.
Leave the planning and organisation to us – our specialists and party hosts will handle everything so you can relax and enjoy every moment with minimal stress. We know how to throw a fantastic hen bash!
If you're looking for a one-of-a-kind Liverpool hen party activity for a singing superstar bride-to-be, Coverstar Experiences is the obvious choice.
Contact us today to start planning your customised hen event!
How to Create a Memorable Hen Party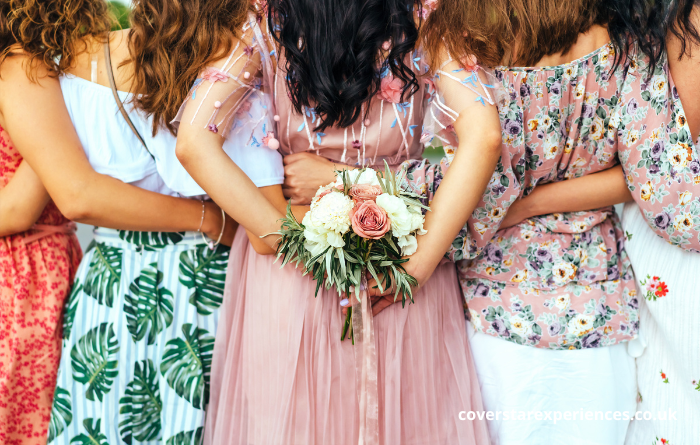 A hen party should be a once-in-a-lifetime occasion that the bride will remember forever.
Follow these tips for an unforgettable bash:
Focus on the Bride
Make everything about pampering the bride-to-be and showing her how much she means to you. Have guests share favourite memories or advice for the bride.
Personal Touches
Add personalisation with inside jokes on decor, custom shirts with the bride's face, a signature cocktail based on something the bride loves, or any other special details that show thoughtfulness.
Sentimental Gifts
Give meaningful gifts for pre-wedding celebrations, like a memory book filled with loving notes from guests or a piece of jewellery engraved with her new name and wedding date.
Photos & Videos
Document all the fun with photos and videos at the event. Compile them into a wedding website or slideshow the bride can treasure.
Games & Activities
Get everyone participating together with special hen party games or activities representing things the bride loves. Sharing experiences builds closeness.
Surprises
Have some surprises up your sleeve like an unexpected cocktail hour with the bride's favourite drink or a special video message from loved ones who couldn't attend.
Theme
Tie everything together with a creative theme that fits the bride's personality – glam, retro, superheroes, tropical, etc. A theme makes it feel extra special.
Sisterhood Vibes
Foster a sense of love and sisterhood throughout the event with touching speeches, group photos, inclusive activities and plenty of quality bonding time.
Making the hen feel loved and creating wonderful memories she can take with her into her marriage is what it's all about. With personalisation and creative touches, her hen party will leave a lasting impression.
Hen Party Fashion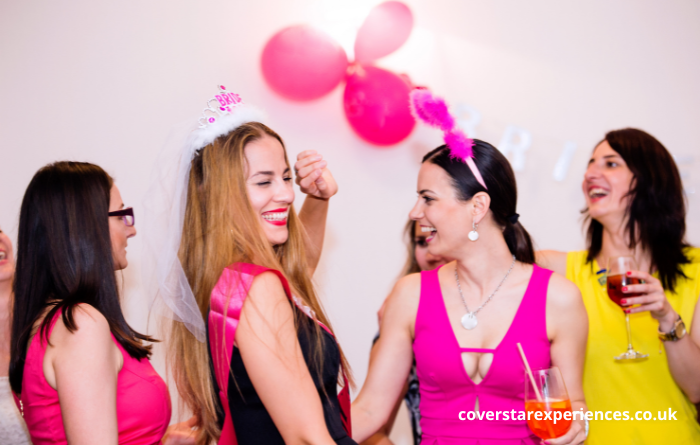 A hen party is the perfect occasion for the bride and her friends to get glammed up. From sashes to t-shirts to costumes, hen fashion helps set the tone for a fun celebration.
Bride-to-Be Sash
No hen is complete without a fancy sash for the bride declaring her title. She can wear it out on the town or all weekend long at a destination hen party. The maid of honour may arrange a custom sash with the bride's new surname or wedding date.
Matching T-Shirts
Matching hen party t-shirts are a classic group look. Shirts may feature the bride's photo, funny slogans, the wedding location or date, or the hen weekend destination. The maid of honour can order custom tees for all attendees.
Themed Costumes
If the hen has a theme like superheroes or dynasties, getting everyone in on the costume fun can make it extra special. The more outrageous, the better! Costume shops or DIY creativity can produce some hilarious looks.
Neon Brights
For a Miami vice or neon disco-themed hen, clothing in bright neon pinks, greens, yellows and other loud colours make a bold statement. Blacklights at a club make neon colours pop even more.
Masquerade Masks
Channel mysterious masquerade vibes by wearing decorative masks with hen party outfits. Opt for feathered, bejewelled or lace Venetian-style masks in any colour.
Themed Accessories
Accessories like hats, boas, tiaras, tutus and wings can complement themed hen costumes or just amp up any regular outfit. A cowgirl hen may wear bandanas while a 90s hen could rock platform shoes.
Dressing up together makes the event even more special and photograph-worthy. The bride and her girls can get as fancy, playful or creatively costumed as they wish to complement the vibe of their perfect hen bash.
Hen Party Transport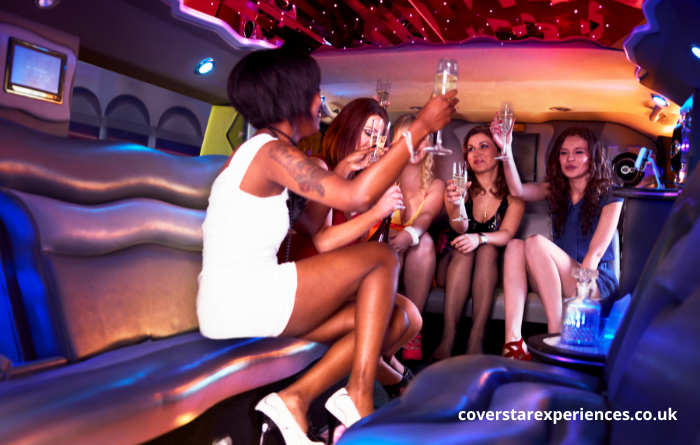 Figuring out transportation for a hen weekend in advance ensures the smooth running and convenience of the celebration.
Here are some transportation options to consider when getting the bride's crew where they need to go in style:
Party Bus/Limo
A party bus or limo lets the whole crew ride together, often with alcohol and music. It's ideal for bar hopping or heading to events. Many buses feature lush interiors, light shows and stripper poles!
Decorated Car
For transport to a hen activity, decorate a car with streamers, shaving cream art, window paint and a "Nearly Married" sign on the back to get attention. Pack champagne too.
Boat Cruise
In waterfront cities, a boat cruise can be a unique way to enjoy sights and party as a group. Many offer catering, entertainment and various amenities for an unforgettable experience.
Bicycle Built for Booze
Pedalling through town on a 10+ person bike designed to hold alcohol and multiple riders is a hysterical activity, especially when in costumes! It's ideal for a pub or wine crawl.
Hen Party Ideas on a Budget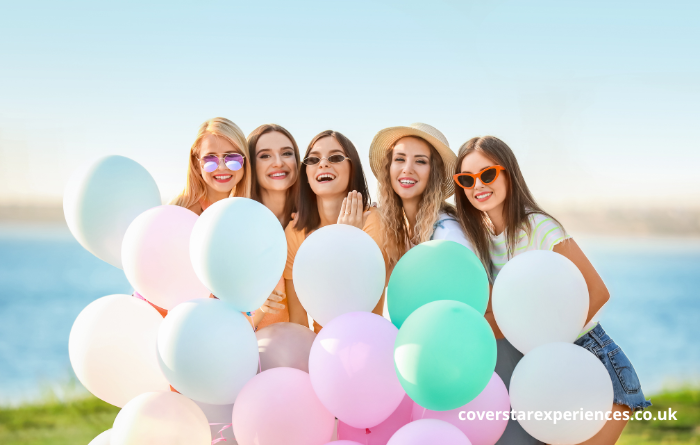 Want to throw a hen bash on a budget? You can keep costs low with these money-saving ideas:
At Home Cocktail Party
Hosting the hen at someone's home where you can BYOB, make your food and control the guest list is a budget-friendly option. Get decorative with balloons, banners and games.
Potluck Dinner
A potluck dinner cuts down on catering costs and gives everyone a role. Have guests sign up to each bring a dish then vote for the best cook in the bride's circle.
Outdoor Park Picnic
Pack snacks, blankets, speakers and activities for an affordable afternoon hen picnic in the park. Being outside most likely means no facility fees.
Group Crafting
DIY crafts at home like scrapbooking wedding memories, bejeweling shirts/hats or arranging flowers let you create take-home items on a budget.
Brunch Bash
Hosting the hen at brunch time can save money on both the meal and day drinking. Bottomless mimosas anyone?
With creativity and advanced planning, you can throw a fun hen within budget. Focus on bonding experiences, thoughtful gestures and celebrating the bride over lavishness.
Find out more: Unleash your talent and book your Coverstar Experience today!
How To Manage Payment For Hen Parties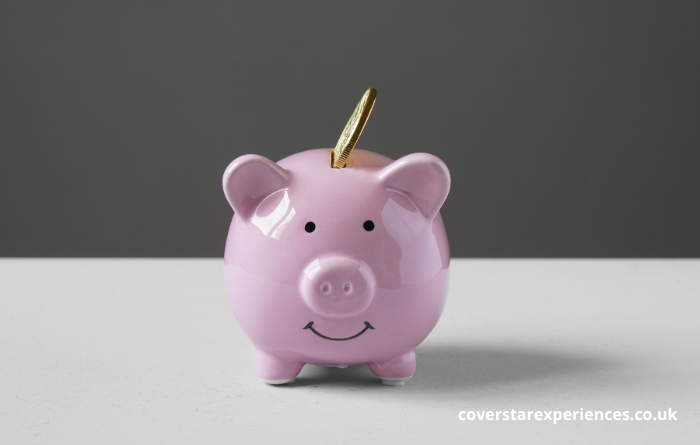 Figuring out the financials for a hen party can be tricky but it doesn't have to be an awkward conversation.
Here are some tips on handling payment:
Set expectations upfront – When first planning, know your guests and set a suitable budget. Then estimate costs and make clear to guests what they will need to pay to avoid any surprises.
Split big-ticket items – Large expenses like a holiday rental or party bus can be divided evenly among attendees.
Collect contributions early – Give guests plenty of notice to chip in their share for things like food, decor and the bride's share.
Use payment apps – Venmo, Paypal or similar apps make it easy for guests to pay the organiser their portion of costs.
Consider group gifts – Having each guest contribute to presents like bride sashes, shirts or other take-home items makes gifting affordable.
Offer package options – For multi-day or destination hens, provide all-inclusive package pricing to simplify payments.
Handle the bride's costs separately – Often bride's expenses are covered as a gift by the maid of honour and bridesmaids.
Be understanding – If a guest is struggling financially, discreetly offer to cover her portion or suggest affordable ways she can still participate.
With good planning and communication, you can throw an incredible hen party that fits within every guest's budget. The most important thing is celebrating together!
Is A Hen Party The Same As A Stag Party?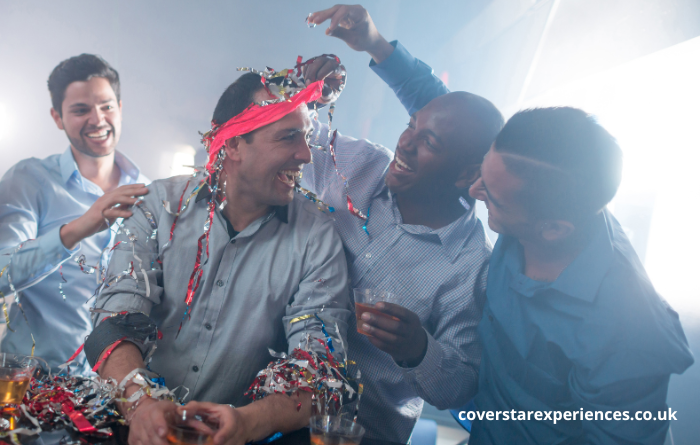 Hen and stag parties are distinct pre-wedding celebrations for brides and grooms, respectively, marking the transition from single to married life. Traditionally gender-specific, these parties involve close friends and family in various celebratory activities. However, modern trends see some couples blending these events into co-ed "sten" or "hag" parties.
What Is A Bachelorette Party?
A bachelorette party is similar to a hen party but is the term used in North America for a celebration for a woman about to get married that is typically organised by close friends. Both hen and bachelorette parties celebrate the bride-to-be's final days of singlehood, but cultural and regional traditions can influence the activities and overall vibe of the celebration.
Summary
If you've ever wondered 'what is a hen do', we hope you now know. To recap, a hen do is an important pre-wedding tradition celebrating a bride's last days of singledom with the bride's closest friends, female friends and family. The maid of honour typically plans the event based on the bride's preferences.
There are endless options for celebratory hen do activities from spa days to parties to adventure trips and more. Figuring out costs and payments for a group event takes coordination but there are many ways to split expenses.
Do you have a friend who loves to sing? Coverstar Experiences can help you plan the perfect hen do!
Most importantly, a hen do should be a thoughtful, personalised experience focused on the bride feeling special and loved leading up to her big day. With creativity and sisterhood vibes, her hen party will become an unforgettable memory.